Radio Jove Project Updates and News
RADIO JOVE PROJECT "THE SUN IS BACK" "That Would Fry Some Onions" LATEST SOLAR OUTBURST
ANVIL SCREAMER: In a remote area of New Mexico, amateur astronomer Thomas Ashcraft operates a shortwave radio observatory. He routinely records bursts of radio energy from the sun and Jupiter, as well as echoes from passing meteors. On April 20th, a more hair-raising sound emerged from the loudspeaker. "It was the banshee howl of an 'anvil screamer.'" Click on the image for a sample of what he heard: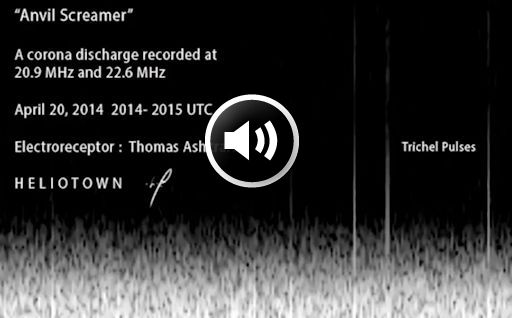 An "anvil screamer" is a burst of static caused by a thunderstorm passing directly over a radio telescope, raising strong electric fields around the antenna. "Small corona discharges occurred off of pointy objects (grasses and cactus spines) in the vicinity of the antennas due to a charge differential between the ground and the air," says Ashcraft. "I did not look outside because I was busy disconnecting sensitive electronics, but it is possible my antennas might have been glowing violet blue in this moment with St. Elmo's Fire."
"I was able to capture a one minute forty second radio recording, which builds in intensity and frequency and then stops abruptly as I got my system unplugged," he says. "I thought a lightning bolt would surely strike as the charged anvil of the thunderhead passed by, but a strike did not occur." Listen again. "It was a close call in any case." More information about the event may be found here.
"Somewhere, Something Incredible is Waiting to be Known."
Carl Sagan (1934-1996)
Last Update September 18, 2011
Radio Jove Home: http://radiojove.gsfc.nasa.gov/index.html
Build your own Radio Jove Telescope:
(see below)
The Birthplace of Planetary Radio Astronomy:
2005 marked the 50th anniversary of the discovery of Jupiter's natural radio emissions near Seneca, Maryland. Radio JOVE helped publicize this milestone with a variety of events and presentations.
University of Florida Radio Observatory Oline:
http://ufro1.astro.ufl.edu/
Windward Community College Radio Observatory:
Lanihuli Observatory
http://jupiter.wcc.hawaii.edu/
The Internet Jupiter/Solar Radio Observatory:
http://jupiter.kochi-ct.jp/
Student Observation Network "NASA"
http://www.nasa.gov/audience/foreducators/son/home/index.html
Spaceweather News and Alerts http://www.spaceweather.com
Radio Jove Home: http://radiojove.gsfc.nasa.gov/index.html
March 25, 2011
Lots of radio bursting March 26, 2011Saturday, March 26, 2011 12:14 PM
From: "Thomas Ashcraft" To: "radio jove"
There has been a great deal of solar radio emission the past many hours. Lots of fast type III bursts. Lots of dynamism on the Sun today.
Tom
UPDATES


There was a 60 dB above background burst near 1444 UT.
The type III storm activity (8 to 16 UT at Nancay) at times displayed several bursts per minute.

Best regards,
Victor Herrero

February 16, 2011
Hello Radio JOVE Observers,
The Sun has been relatively active lately and we would like to take the opportunity to have a coordinated solar observing session this Friday before the active spots on the Sun are no longer so active. We will have a late afternoon Solar observing session on Friday, Feb. 18th from 3:30 to 4:30 EST (2030-2130 UT)
We are also planning this as a help session teleconference as well as an observing teleconference. We invite everyone to observe with us and ask questions, tell us about their observations, or just get together and exchange conversation.
Please join us!
We invite our international members to join the teleconference via Skype or other international dialing approaches, if they so desire.

We hope you will be able to join us for the teleconference.
Happy observing to all !!
Jim
Feb 13, 2011
From: "Thomas Ashcraft"
To: "radio jove"

Heads up for possible strong flares today.


I am losing touch with Jupiter predictions these days but I just checked Radio Jupiter Pro and see there was a prime Io-B pass during the 0200 UT hour Feb 13, 2011.

I can hear some L bursting in my audio records from 0229 through 0233 UT.

Heads up Hawaii, Australia and Japan because it might have been a good storm where Jupiter better positioned in the beam.

Tom | New Mexico

EXTRA! SOLAR RADIO BURSTS:
The August 7th flare produced intense radio bursts detectable by ordinary shortwave receivers on Earth. In New Mexico, amateur radio astronomer Thomas Ashcraft picked up strong emissions around 21 MHz. "Listen to some of the sounds than came out of the loudspeakers," he says. "This was a complex flare and very exciting. Yet it is still small stuff compared to what is coming in the future as Solar Cycle 24 intensifies."
Get Involved With Radio Jove! Build Your Own Radio Telescope! Follow this link to NASA Radio Jove Project: http://radiojove.gsfc.nasa.gov/
The Radio JOVE project is a hands-on inquiry-based educational project that allows students, teachers and the general public to learn about radio astronomy by building their own radio telescope from an inexpensive kit and/or using remote radio telescopes through the internet. Participants also collaborate with each other through interactions and sharing of data on the network.
The Radio JOVE project began in 1998. Since then, more than 1100 teams of students and interested individuals have purchased our non-profit radio telescope kits and are learning radio astronomy by building and operating a radio telescope. This self-supporting program continues to thrive and inspire new groups of students as well as individuals
Radio JOVE students and amateur scientists observe and analyze natural radio emissions of Jupiter, the Sun, and our galaxy.
Build and use your own Decametric Radio Telescope
Follow Live Observations Online
Teachers, See Our Lesson Plans and other Educational Materials
http://radiojove.gsfc.nasa.gov/
Radio JOVE at a Glance:

Teaches planetary and solar radio astronomy, space physics, electronics, and the scientific method
Target Audience - Teachers and students of high schools, middle schools, college science courses, and interested individuals
Provides participants with a hands-on radio astronomy experience for the classroom or for special projects
Gain experience in electronics construction and testing
Interact with other Radio Jove participants to exchange data, ideas, and experiences
Radio Jove Kits are available @ http://radiojove.gsfc.nasa.gov/office/order_form.htm
Solar Dynamics Observatory Daily Movies
The Atmospheric Imaging Assembly cameras are creating wonderful high resolution images of the Sun at several wavelengths. They are also available as daily movies.
I think they will be FUN to show High School students, at the same time they observe the Sun with Radio JOVE Kits, and Radio JOVE Participant data streams from around the world, and discuss Solar events of various types.
Please go to: http://sdo.gsfc.nasa.gov/data/aiahmi/dayform.php

National Radio Astronomy Observatory: http://www.nrao.edu/
Radio Jove on the Web: http://radiojove.gsfc.nasa.gov/related_links.htm
Space Surveillance Radar:
METEOR ECHOES :
The Air Force Space Surveillance Radar is scanning the skies above Texas. When a meteor or satellite passes over the facility--ping!--there is an echo. "Listen"
http://www.spaceweatherradio.com/index.php
Listen To Saturn:
Recent data from NASA's Cassini spacecraft show that the variation in radio waves controlled by the planet's rotation is different in the northern and southern hemispheres. Moreover, the northern and southern rotational variations also appear to change with the Saturnian seasons, and the hemispheres have actually swapped rates. These two radio waves, converted to the human audio range, can be heard in a new video available online at: http://www.nasa.gov/multimedia/videogallery/index.html?media_id=74390781 (Or click the video below)
Hawk's Nest
Radio Astronomy Observatory



GET OUT YOUR SOLAR SCOPES
SUNSPOT MOVIE: Sunspot 1057 is crackling with C-class solar flares. Yesterday, amateur astronomer Michael Buxton of Ocean Beach, California, saw one with his own eyes. www.spaceweather.com
------------------------------------------------------------------------------------------
Today could be good, too. C-flares are continuing at a rate of one every 3-to-6 hours, and NOAA forecasters estimate a 20% chance of even stronger M-flares. Readers with solar telescopes are encouraged to monitor developments.
-------------------------------------------------------------------------------------------
From: "Victor Herrero"
"Thomas Ashcraft"
To "radio jove"
Active region 11057 has become a little more complex today and I sense that radio bursts are likely to happen. But, as ever, radio bursts cannot be predicted with certainty. Yet, magnetic conditions in that prominent sunspot are favorable.

Tom / New Mexico
-------------------------------------------------------------------------------------------
SEE IMAGE BELOW: 03/28/2010
Here's my audio chart for that burst.
The burst saturated my 21.1 MHz yagi. "Pegged the needle" on the
chart recorder
as the old saying went. The 23.9 MHz top portion of the chart is a single half-wave dipole reception.
Image Credit Tomas Ashcraft